Proposed Naming of Roads - 30 Tickle Drive, Thirlmere
Closes: Jul 11, 2022, 5:00 PM
Roads Act, 1993 & Roads Regulation 2018, Part 2, Division 1
Notice is hereby given that Wollondilly Shire Council, in pursuance of Clause 7 of the above regulation proposes to name the following road/s:
Description
Subdivision 30 Tickle Drive THIRLMERE NSW – Lot 192 DP 618071. 1 new road – dd010.2017.18.001
BRASENIA PLACE, THIRLMERE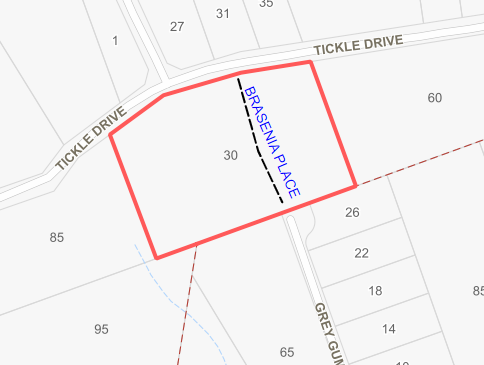 © Wollondilly Shire Council. © Department of Customer Service
Proposed Road Name/s
| | |
| --- | --- |
| Road Name | History/Name Origin |
| BRASENIA PLACE | Brasenia Schreberi is a water lily. 'Water Shield'. It is native to the area of Thirlmere and is locally rare. It is a cosmopolitan plant though that also occurs across Asia, America and India |
Enquiries
General enquiries can be directed to Council's Information Officer (Property Addressing) on (02) 4677 9736 or email barbara.weber@wollondilly.nsw.gov.au
Submissions
Submissions in respect to the proposed name must be in writing to, Wollondilly Shire Council, PO Box 21, Picton NSW 2571 or email council@wollondilly.nsw.gov.au, clearly outlining reasons for such objection*. (quote reference CM1458-2)
Submissions for the proposal close 5:00pm Monday 11 July 2022.
*All objections must identify where or how the proposal does not conform to the Principles NSW Address Policy and User Manual ( APUM) Chapter 6, if they are to be considered and responded to by Local Government in the decision making. https://www.gnb.nsw.gov.au/