Proposed Naming of Roads – 1390 Moreton Park Road MENANGLE NSW – Stage 3
Closes: Oct 6, 2023, 5:00 PM
Roads Act, 1993 & Roads Regulation 2018, Part 2, Division 1
Notice is hereby given that Wollondilly Shire Council, in pursuance of Clause 7 of the above regulation proposes to name the following road/s:
Proposed Names:
Engelman Crescent
Vineyard Lane
Orchard Lane
Description
New roads coming off Sleepy Hollow Drive, Menangle NSW, DA/2021/842/1 – Stage 3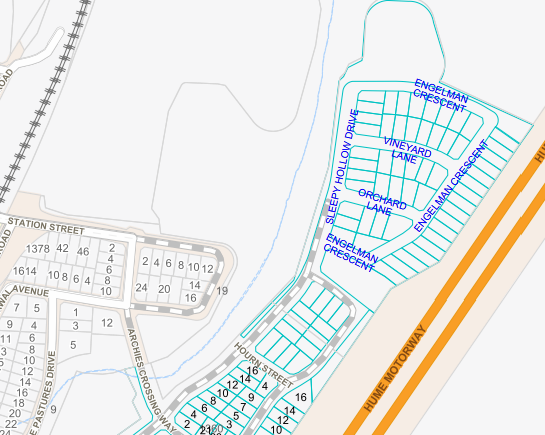 | | | |
| --- | --- | --- |
| Name | Road Type | Name Origin |
| Engelman | Crescent | The Engelman family came to Australia from Germany in 1845. John (Jack) Engelmen worked on Dairy 4 and 1 on Woodbridge Road and the cottage still stands today which is known as Engelman Cottage. The family are still in the Shire. The name Engelman is also happens to be an anagram that spells the towns name of Menangle. |
| Vineyard | Lane | Menangle was also winegrowing country. It had large vineyards in the 1800's producing wine from Muscat to Riesling and part of the first vineyards in Australia. |
| Orchard | Lane | Menangle was also known for its fruit production - by 1965 the orchard in Menangle was 74 acres with 7200 trees, producing 10,000 cases of choice fruit including apples, peaches, pears, plums and nuts. |
Enquiries
General enquiries can be directed to Council's Information Officer (Property Addressing) on (02) 4677 9736 or email streetaddressing@wollondilly.nsw.gov.au
Submissions
Submissions in respect to the proposed name must be in writing to, Wollondilly Shire Council at, PO Box 21, Picton NSW 2571 or email council@wollondilly.nsw.gov.au , clearly outlining reasons for such objection*.(quote reference CM1458-2)
Submissions for the proposal close 5:00pm, Friday 6 October 2023.
*All objections must identify where or how the proposal does not conform to the Principles NSW Address Policy and User Manual ( APUM) Chapter 6, if they are to be considered and responded to by Local Government in the decision making. https://www.gnb.nsw.gov.au/