Thank you to everyone that participated
The Garage Sale Trail 2022 event was well received by those who participated across the shire helping to divert waste from landfill and in turn generating income for local households.
Passing on your secondhand items to op shops or selling them through garage sales or the use of online sales platforms can provide a range of benefits.
A good incentive to declutter your home.
"One persons trash is another persons treasure." Items that are no longer of use to you may be that special item that someone else is looking for.
In a world of increasing living costs it is a great way to support the local economy through providing items that are affordable on a budget, and help generate income for local charities and households. It's a Win / Win for all involved.
Often when items aren't of use anymore the inclination can be to throw them out, adding to the ever increasing landfill at our tip sites. Why not send them on to a home where they will be used by somebody else, helping reduce the amount of waste we produce in our homes.
Check out the "Cull Your Stuff" page in our sustainable living guide for more ideas.
Here are some highlights of the positive outcomes generated by Garage Sale Trail 2022. Stay tuned for the 2023 dates.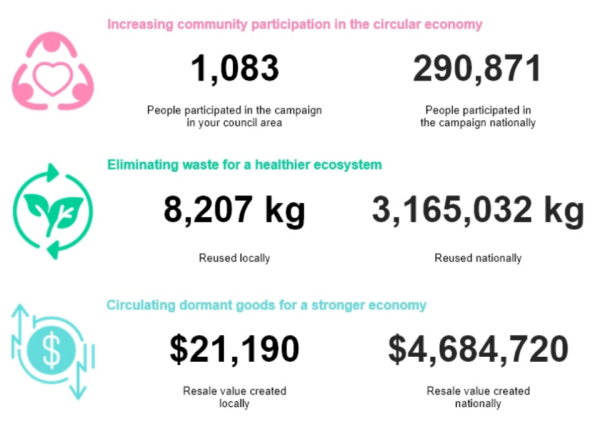 | | | |
| --- | --- | --- |
| As Yoda once famously said, "Change your habits, decluttering can." How living with less can spark joy for you and the planet. | Garage sales are just one side of a very sexy, consumption-friendly dice. So we say get rolling. Good old fashioned game of Yahtzee, anyone? | A great sale starts with a great sale name. Check out the best we've seen. |
| Think about it as a normal garage sale, but bigger, better and more connected. Sounds damn good, huh? | Whether you're taking part online or in the community, stand out from the crowd with these top tips to take your sale listing from oh to oh-em-gee. | 7 ways to up your planet-saving karma credits and get a guilt free fashion fix. |
Find out more information or register your interest today at ​garagesaletrail.com.au or contact Garage Sale Trail directly on contactus@garagesaletrail.com.au.