illuminARTe 2016
Sat, May. 7, 2016 12:00pm — 9:00pm
Picton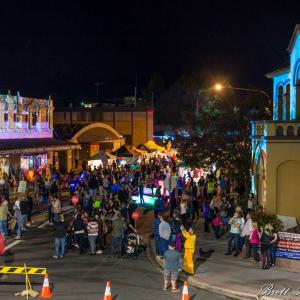 IlluminARTe Wollondilly is the largest event on Wollondilly's calendar. The festival encourages visitors, locals, friends and families to stroll through the picturesque town of Picton taking in the enchanted ambience as an amazing range of local artworks are projected onto landmark buildings to illuminate the historic town.
Market stalls will sell locally made arts and craft, designer fashion and accessories, packaged gourmet foods, and other unusual, innovative and unique items. While, take-away food vendors focus on traditional street food freshly prepared on site, particularly those with international influence of "sizzle, aroma and theatre".
A Family Fun Day will be held in the Picton RSL Park which will consist of a Community BBQ, Jumping Castle and other children's attractions. As night falls, the Anzac Memorial and Gum Trees will be glowing with coloured lights and activities will be continuing on after sunset.
Live entertainment will add to the atmosphere from midday and continues through the night with performances from local bands, soloists, groups and buskers as well as a special guest performance from Liam Maihi, a top four finalist on Channel 9's hit show "The Voice".
As night falls, children and adults proudly march in the Lantern Parade with paper lanterns they have made in workshops and master classes captivating the audience with their creations. The finale is a fireworks spectacular over the historic town capping off a night of colour, light and creativity.
Follow us on Facebook to keep up to date with everything that is happening for illuminARTe 2016
Downloads
illuminARTe Sponsors
Wollondilly Shire Council is proud to announce that Bradcorp Community Partnership Fund has come on board as the Festival Premier Partner for illuminARTe.  Through the Bradcorp Community Partnership Fund, they have been able to express their social and financial commitment to the local community and enjoy the satisfaction of knowing that they have contributed in a meaningful way to the communities in which they operate.
illuminARTe has a number of sponsors and the festival would not be possible without the support of all our sponsors. To find out who has sponsored illuminARTe in 2016 please click here.