Waste and Recycling Information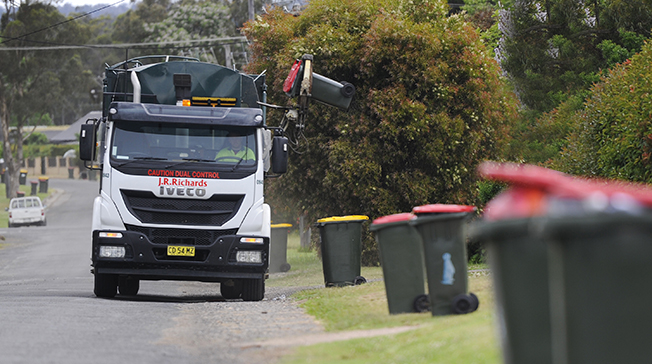 FAQs
Bargo Waste Management Centre is located on Anthony Road, Bargo and can be contacted on 0419 490 599 or council@wollondilly.nsw.gov.au
It is open 7 Days between 8.30am - 4.15pm (except Christmas Day and Good Friday)
Scrap metal, paper, cardboard, car batteries, motor oil, e-waste and co-mingled recyclables are accepted at Bargo Waste Management Centre FREE of charge when separated and placed into the correct recycling station. 
Waste generated from outside of the Wollondilly Shire cannot be lawfully transported to, or deposited, at these Bargo Waste Management Centre and penalties apply.
Please be advised that eftpos or cash is accepted at Bargo Waste Management Centre.
Important Information
Bargo Waste Management Centre Fees and Charges 2018/2019
Wollondilly Shire Council holds free household chemical cleanouts so household quantities of chemicals (max. 20ltrs or 20kgs) can be disposed off in a safe way.
The following materials can be dropped off:
Solvents
Gas Bottles
Hobby Chemicals
Pesticides/Herbicides
Fire Extinguishers
Smoke Detectors
Motor Oils, Fuels & Fluids
Oils
Solvents & Household Cleaners
Batteries (household & car)
Pool Chemicals
Ammonia Based Cleaners
Poisons
Acids & Alkalis
Fluorescent Globes & Tubes
To find out when collections dates are scheduled, please visit www.cleanout.com.au or call the EPA Environment Line on 131 555.
Wollondilly Shire Council is getting tough on illegal dumpers. Leaving unwanted materials like household rubbish, building waste, electrical goods, fridges, washing machines or garden clippings anywhere that is not a registered landfill or waste management centre is illegal dumping. This has a big impact on our environment and our community, ranging from water contamination, spreading invasive and non-native plants, reducing property values and community pride and making our beautiful rural Shire look like a rubbish dump. Council is trying to catch illegal dumpers in the act.
If you see anyone dumping rubbish illegally in the Shire then contact Council's Compliance Section on 4677 1100 to report the incident. If you call out of office hours please leave your name, address and phone number, the time and date of the offence, and the registration number of the offending vehicle.