Student's environmental message is displayed on waste collection truck as new in-house service begins
Posted on: 10.06.2021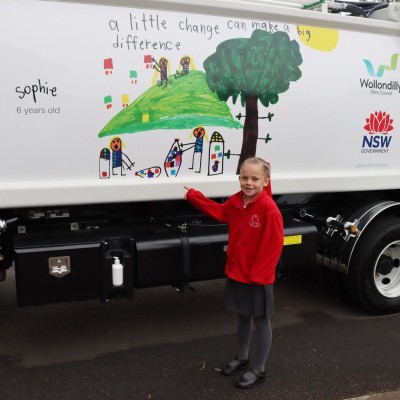 A Douglas Park Primary School student has had her artwork featured on a new waste compactor truck as part of Wollondilly Council's new public bin servicing initiative.
The winner of the art competition for local schools, Sophie (7), was congratulated by Councillors and staff at the launch of the new truck on Thursday.
The theme of the competition was "reducing litter in the environment" and Sophie's picture featured the important message, "a little change can make a big difference."
Mayor Robert Khan said, "It was exciting to see Sophie's artwork come to life on our new compactor truck."
"I'd like to thank all the school students who took part in the competition. It is great to see our local young people working with Council to make improvements that will help our environment."
The truck was purchased to collect the waste from 78 new 240 litre enclosed bins, which have replaced many of the smaller uncovered steel street bins around the Shire.
Council introduced the larger enclosed bins to reduce the amount of litter that gets onto the street and into local waterways. The purchase of the bins was made possible by the NSW Environment Protection Authority, 'Waste Less, Recycle More' initiative, with funding from the waste levy.
The new bins are too heavy to be picked up by hand, so the new compactor truck will make pick-up much faster and more efficient.
The truck also signifies part of Council's investment into service improvements and job creation; bringing Wollondilly's public bin system in-house, including the employment of two new staff to run the service.
Until now, public roadside bins were looked after by a contractor and park bins were emptied by hand, by area maintenance staff.
The new bins, compactor truck and dedicated public bin servicing team represent a new era of waste collection for the Shire.