2020 Wollondilly Christmas Lights Competition Winners Announced
Posted on: 18.12.2020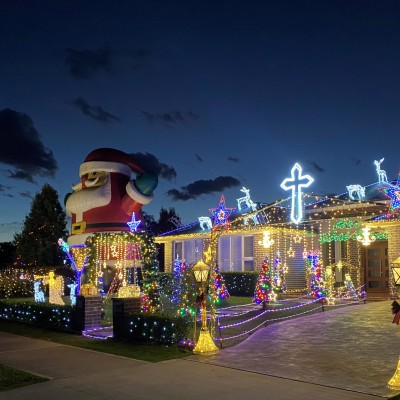 The winners of the 2020 Wollondilly Christmas Lights Competition were announced at the annual Christmas Lights Dinner last night.
Mayor Robert Khan said, "The Christmas Lights competition is a highlight in the Wollondilly calendar and a fun way to kick off the festive season."
"As usual, there are some beautiful, and creative entries on show this year."
This year there were 37 entries from across the Shire, representing 9 towns in Wollondilly.
The four judges for the competition were Nathaniel Smith, Member for Wollondilly, Deputy Mayor Cr Michael Banasik, Cr Matthew Deeth and Les Harvey who is a previous Grand Champion.
The winners are:
Grand Champion – Sponsored by CPE Tree Services                
Winner:  Shane Keeley
Best Lit Small House & Garden – Proudly Sponsored by House Warehouse
Highly Commended: Patrick Aramini
Winner: Salim & Elizabeth Jabbour
Best Lit Large House & Garden – Proudly Sponsored by Picton Bowling Club
Highly Commended: Patrick and Sandy Carreno
Winner:  Shane Keeley
Best Lit House – Senior Citizen – Proudly Sponsored by South 32
Highly Commended: Steven Napoleoni
Winner: Peter & Pauline Denny
Best Commercial/Retail Premises – Proudly Sponsored by South 32
Highly Commended: Warragamba Silverdale Neighbourhood Centre
Winner: Collectables at Picton - Lenore Armour
Best Street – Proudly Sponsored by Funnells Electrical
Winner: Beatty Street - Wilton
Peoples Choice Awards: Sponsored by The MAC
Highly Commended: Patrick Aramini
Winner: Salim & Elizabeth Jabbour
Mayors Awards – Sponsored by Picton & District Community Bank (Bendigo Bank)
Winner #1: Jessica & David Bedford
Winner #2: Sinfield Family
Winner #3: Tamika & Jeline Ferguson