A new era for Wollondilly as Council welcomes new Executive Team
Posted on: 15.09.2022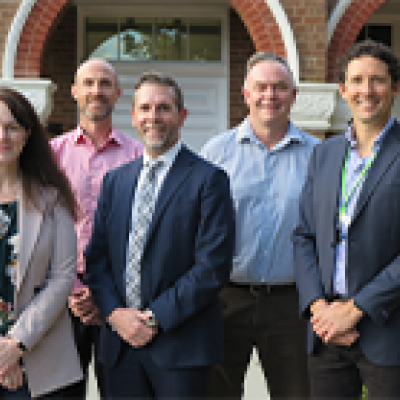 Wollondilly Shire Council now has all of its executive team in place as part of a freshly implemented framework for the organisation, following the establishment of a newly elected Council in December 2021.
Under the leadership of CEO Ben Taylor, the team is focussed on creating a high-performance organisation that will provide excellence in service delivery and build a great future for the growing Shire as it moves into a new era.
Mayor Matt Gould said, "Our focus is providing the best possible services for the Shire, and this team provides a great mix of skills and experience, with an emphasis on empowering and supporting staff to excel."
"The new organisational framework has been designed to help us take the next step toward the future; making the changes we need to prepare for the challenges ahead and delivering even higher quality services for the Shire."
"It is exciting to have a leadership team in place who have such extensive local knowledge, with a number of them living locally, and a shared passion for the area. The Councillors and I look forward to working with the team to continue to make Wollondilly even better for our community."
CEO Ben Taylor added, "This team has a real passion for Wollondilly, our people and the community of this wonderful Shire. Together we look forward to working closely with the Mayor and Councillors to deliver a high performing Council and make Wollondilly even better."
Peter Buckley commenced as Director Shire Services on 29 August, with a focus on operational service delivery. The Directorate includes Parks & Recreation, Infrastructure Operations, Community Services, Waste & Environmental Services and Project Delivery.
Martin Cooper joined the organisation last month as the new Director Shire Futures, which brings together the Assets, Transport & Engineering, Sustainable Growth, Development Services, Business Investment and Health & Regulatory Services teams who will take the lead on future land and infrastructure planning as well as keeping the community and environment safe.
Caroline Argent has been with Wollondilly Council for eight months as Director Customer & Corporate Services. Her key focus is organisational performance, and the Directorate brings together the Engagement & Performance, People & Culture, Customer, Information & Technology, Governance, Integrity & Ethics, General Counsel and Property & Commercial teams.
The Financial Services team is led by Rob Seidel and now brings together Developer Contributions, Accounting Services, Revenue and Management Accounting teams with a focus on Council's financial sustainability and performance.