Community to benefit from new Park and Sportsground Upgrades as part of Council's Operational Plan
Posted on: 14.07.2022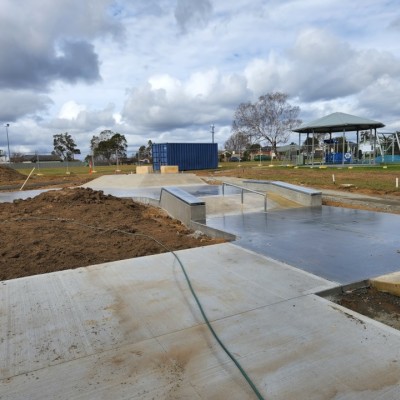 Residents of Wollondilly will be able to enjoy upgrades to many of their local parks and sportsgrounds in the coming year as part of Council's newly adopted Operational Plan and Budget.
Mayor Matt Gould said, "With the health and wellbeing of the community a priority for Council, we want to make sure everyone in the Shire has access to outdoor spaces where they can exercise and socialise."
"It is great to see parks such as Telopea Park at Buxton evolving into a central hub for residents of all ages and abilities, and we look forward to seeing many of our other parks renewed in the coming year."
Following feedback from the community, Council included as many ideas as possible in the adopted Telopea Park Master Plan to revitalise Buxton's open space.
Work on the youth zone at Telopea Park is in full swing, and is currently around 65% completed. The youth zone should be operational early in the new financial year, weather permitting.
So far, the drop ins and ramping for the skate facility are complete, along with the linkages between the different elements.
The basketball court has been poured, with pathways around 50% completed and landscaping well under way. The installation of new park furniture is also in progress.
The village of Yanderra also has something to look forward to, with Birrahlee Park playground upgrades in the final stages of the design process and the contract to be awarded shortly.
Council asked for ideas from the community for the park, and has incorporated suggestions such as a new exercise station, a BBQ area and play equipment upgrades.
Wollondilly's sportsground facilities will also be getting some attention in the next 12 months, such as the upgrade of the netball court at Appin AIS Sportsground.
This project includes the renewal of the existing netball court, construction of an additional netball court, floodlighting and connecting pathways. Construction is scheduled to start in October 2022 and should be complete by February 2023.
The Tahmoor Sporting Complex upgrade is continuing to progress, with the construction of a new two storey multi-purpose amenities building well under way. This part of the project was funded by the Liveability Program, Greater Cities Sports Facility Fund and the LRCI program.
Ground floor blockwork is complete and the first-floor scaffold and formwork has been installed, soon to be followed by the first-floor structural steel, the lift shaft, roofing and external cladding.
Master plans have also been adopted to refresh the Douglas Park Sportsground and create an all-abilities playground at Dudley Chesham Sportsground, The Oaks.
As works progress, updates will be available on the Project pages of Council's website https://www.wollondilly.nsw.gov.au/shire-projects/projects/