Council joins with Rotary to deliver Youth Voices Project
Posted on: 09.10.2020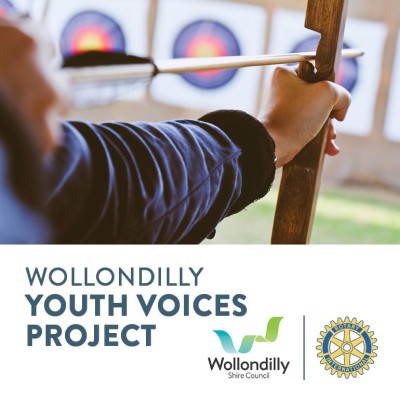 Wollondilly Council is once again partnering with Rotary Club of Wollondilly North to deliver a project for young people in the Wollondilly area who have been affected by the Green Wattle Creek bushfire event.
The Wollondilly Youth Voices project will give children and young people the opportunity to have fun, meet new people and share their stories and experiences of the Green Wattle Creek bushfire, to make sure that their wellbeing has been considered and their perspective incorporated into future preparedness and recovery initiatives.
This project is an extension of the successful Children's Voices Project held throughout August this year.
Wollondilly Mayor Robert Khan said, "I am pleased to partner with Rotary Club of Wollondilly North again to deliver this project for the families and young people of Wollondilly."
"I would like to thank Rotary Club of Wollondilly North for providing the funding to run this project so that we can hear how our local youth are doing after the bushfires."
Council will be holding two free workshops at Cataract Scout Park in Appin. The workshops will involve fun outdoor activities including archery and an obstacle course, interactive sessions with the NSW Rural Fire Service and the production of a short film.
The Youth Voices workshops will allow young people to share their experiences, thoughts and suggestions about the bushfire event. This will help in their recovery and provide insight into how Council and community services can meet the needs of the youth in our community before, during and after a disaster.
Child and youth psychologists will be present at the workshops where young people will be invited to share their experiences and ideas. The stories, ideas and feedback captured during the workshop will be edited into a short film. Paws Pet Therapy will also be attending with some trained therapy dogs.
The project will bring together a team of Wollondilly Shire Council staff and a trained psychologist from Star for Kids and You in Mind. It is a joint partnership between Wollondilly Shire Council, Rotary Club of Wollondilly North and the South West Sydney Primary Health Network.
The workshops will be held:
Saturday 7 November, 2020: 9am- 4:15pm (Primary School Aged Children)
Saturday 14 November, 2020: 9am- 4:15pm (High School Aged Children)
Lunch and snacks will be provided.
Registrations are essential. Please contact Natalie McMullen, Community Recovery Officer on 02 4677 9654 or email recovery@wollondilly.nsw.gov.au