Council seeks feedback on managing impact of Picton's camp of threatened Grey headed Flying Foxes
Posted on: 07.12.2020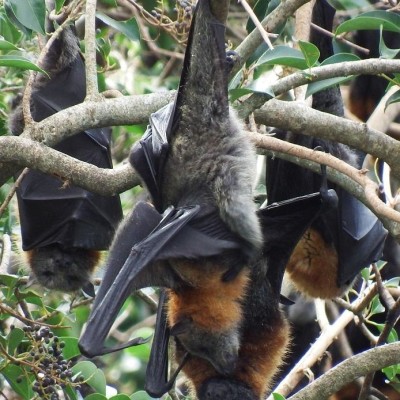 The Grey Headed Flying Fox camp in Picton has expanded to over 15,000 individuals and is the largest the camp has been since monitoring started in 2013.
Wollondilly Council is looking into ways to help neighbouring residents deal with the impacts created by the camp.
Council is limited in what activities can be undertaken around the camp by Threatened Species Licensing provided by the State Government. This means no works can be undertaken around the camp during this current period of birthing and raising young pups.
However, Council is investigating actions that can help neighbouring residents deal with the impacts created by the camp.
Mayor Robert Khan said, "Council is aware of the impact that the flying-foxes are having on neighbouring residents including noise, smell and mess and we know that it can be very challenging to live alongside the camp."
"We are keen to hear from residents on the best ways that we can help them, for example car covers, access to high pressure water cleaners and aromatic plants," he said.
The camp at Stonequarry Creek is currently home to numerous females with young pups, making this a very delicate time as the mothers birth and raise their young.
Last summer most of the young pups died due to the extreme conditions coming out of a drought and with the impact of the bushfires.
Food sources for flying foxes across the country have been on the decline for a number of years and so has their population - consequently the Grey Headed Flying Fox is now listed as a vulnerable species.
Much of their habitat was severely burnt by the fires last season and this is a major reason why the camp has expanded so much in 2020.
Reviews of flying fox dispersals over the last 20 years have revealed that dispersal can be very costly, with over $1 million spent at the Sydney Royal Botanic Gardens and over $3 million spent at Melbourne Botanic Gardens.
Of 20 different locations where flying fox dispersal was attempted, the review showed that the majority of cases resulted in them returning to the site within a year or two.
Please submit your responses in our survey through the link Your Say Wollondilly