Council Welcomes over $5 Million State Funding for road repairs & community projects
Posted on: 28.11.2022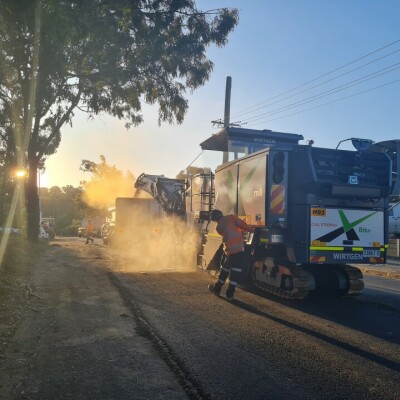 Wollondilly Council has welcomed $3M for road reconstruction as well as close to another $2.5M for three other community projects in the Shire - part of Round 9 of the NSW Government's Resources for Regions program.
Council was successful in applying for the funding for road repairs in Bargo, Appin, Menangle, Douglas Park and Oakdale; as well as drainage and irrigation at Gordon Lewis Oval in Appin, revitalisation of the Menangle School site, and an active transport connectivity and drainage project in Bargo and Yanderra.
Mayor Matt Gould said, "It is fantastic to receive this funding for much needed roadworks in some of our mining impacted communities. This will help with the upgrade of a number of major connecting roads in rural areas to increase width, improve drainage, and upgrade the pavement and wearing surface."
"These road upgrades will help negate the wear and tear that has been caused by the frequent use of heavy haulage trucks used by the local mining companies in these towns."
"Every bit helps when it comes to getting our road network up to scratch following our wettest year on record, and this is a welcome contribution."
"It will also be exciting to see some of our community-based projects come to life across the Shire."
"These include Gordon Lewis Oval in Appin, which currently has poor drainage and associated issues which makes accessing the playing surface difficult. I look forward to seeing a smooth and level playing field in the future for the benefit of our sporting teams and other users."
"The funding will also go towards the refurbishment of the Old Menangle School Site, to revitalise this community centre, creating a space that all of the community can use and enjoy."
"Footpath and intersection upgrades in the Bargo and Yanderra area will deliver increased connectivity for the local community, providing a safe active transport link that will help connect residents to the local public school and the train station."
"I would like to thank Local Member, Nathaniel Smith MP for supporting us to receive the funding for these important projects in the Wollondilly Shire."
The Resources for Regions fund was established in 2012 to give back to mining communities, stimulating local economies and delivering critical infrastructure.