Deputy Mayor elected at first meeting of newly formed Wollondilly Council
Posted on: 19.01.2022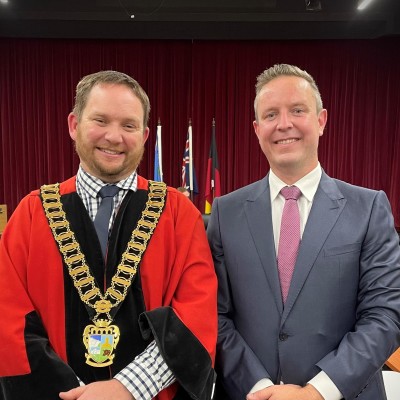 Cr Matthew Deeth was voted in as Wollondilly's new Deputy Mayor at Tuesday night's Council meeting and will support the Shire's first popularly elected Mayor Matt Gould in leading the Council for the next term, until September 2024.
Cr Deeth has been a Wollondilly Councillor since 2016 and served as Mayor from December 2018 to September 2020.
Councillor Deeth said, "I am honoured to have been voted in as a Councillor for the Wollondilly Shire for another term and look forward to serving as Deputy Mayor. I'd like to thank my fellow Councillors for showing their confidence in me to perform this role."
"This is an important time for Wollondilly and I will continue to advocate to make our Shire an even better place for the future."
"We have an opportunity to work collectively and collaboratively as a Council to create a great place to live for generations to come, looking after the parts of the Shire we love and the neighbourhoods we all value."
Mayor Matt Gould congratulated Cr Deeth on his appointment and said he looked forward to working together with all the Councillors to manage the growth challenges ahead, whilst protecting the unique village character and semi-rural lifestyle of the Shire.
"I look forward to having Cr Deeth as Deputy with his strong commitment to the wellbeing of this community, which was demonstrated when he led us through fire, floods and first wave of the pandemic during his time as Mayor."
"We have a fantastic group of Councillors, with a great mix of enthusiastic new faces and experience, and we have a shared desire to get the best outcomes for the Wollondilly community."
The other Councillors voted in at the December Local Government elections were: Hilton Gibbs, Judith Hannan, Blair Briggs, Beverly Spearpoint, Paul Rogers, Suzy Brandstater and Michael Banasik.
Cr Deeth received seven votes for Deputy Mayor with the two remaining votes going to Cr Judith Hannan.
Last night's Extraordinary meeting also saw the Councillors publicly sworn in and the election of representatives to a range of committees.