Get your bike, basketballs and (skate)boards ready - the Telopea Park Youth Zone is now open!
Posted on: 29.07.2022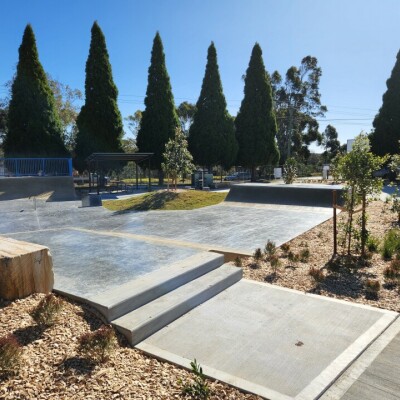 In exciting news for the Buxton and wider community, works on the Telopea Park Youth Zone have been completed, with the space now open for use.
Wollondilly Council carried out community engagement for the project in 2021, encouraging students from Buxton Public School to provide feedback on what they would like to see in the Youth Zone.
Council has included as many of these elements and ideas as possible to revitalise Buxton's open space, including:
A multipurpose court (for netball or basketball)
A skate park that includes ramps and grinding elements
Bike racks
A lazy bench seat
Water fountain with filtration, seating, a picnic shelter, and
Landscaping that includes concrete stools
Mayor Matt Gould said, "This is a really exciting project, and as part of Council's Strategic Plan we are committed to providing residents with outdoor spaces that contribute to the health and wellbeing of the community."

"Telopea Park will provide a central hub for residents of all ages and abilities, with the new Youth Zone and the RFS Fire Truck Memorial Playground in close proximity to each other."

Telopea Park Youth Zone was funded through the Australian Government Bushfire Recovery Fund.
Some minor works, such as acrylic coating and line marking on the multipurpose court will take place once the weather warms up, but it is now a space that is able to be enjoyed by local families as well as many visitors to the area.