Leonard's Beautiful Pictures to visit Wollondilly
Posted on: 18.03.2022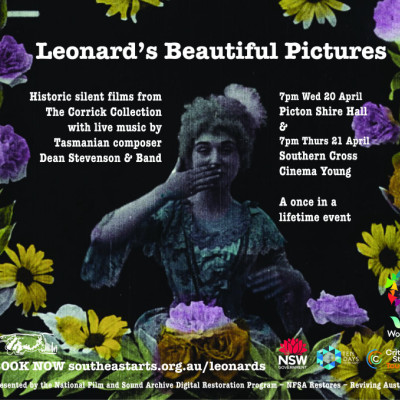 Wollondilly Shire Council, Southern Tablelands Arts and South East Arts will host a magical evening of vintage films from the National Film and Sound Archive's Corrick Collection, presented with live music and foley score.
The event will be held in the newly renovated Wollondilly Shire Hall in Picton on Wednesday 20 April from 7pm. This is a once in a lifetime experience as Leonard's Beautiful Pictures tours across the region.
Paying homage to the musical talents of The Marvellous Corricks, renowned Tasmanian composer and performer Dean Stevenson and his band of three musicians will accompany the moving pictures with a playful new musical soundscape.
The Marvellous Corricks were eight talented siblings: seven sisters and their brother, Leonard who was just 14 years old when he started screening silent films.
In 1901 Leonard's early projections were a highlight of his family's travelling shows, which were filled with sketches and singalongs.
Leonard's Beautiful Pictures presents these100-year-old films featuring the fascinating newsreels that once awed our local communities with the latest in cinematography.
This is a free family friendly event.
Tickets are available now or call Southern Tablelands Arts 0427 938 110.