Local jobs on offer for trainees and undergraduates, opening the door to careers at Wollondilly Council
Posted on: 09.11.2021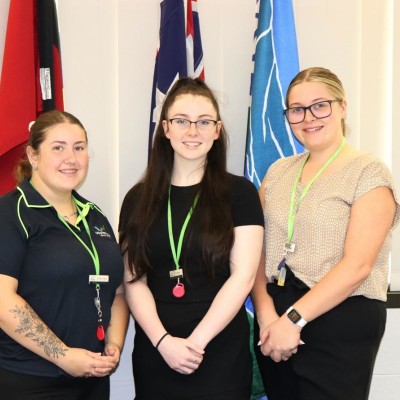 Young job seekers and students who live in the Wollondilly Local Government Area are invited to apply for a Local Skills Ready program that will kick start their careers, with more local opportunities than ever available in 2022.
My Gateway, in partnership with Wollondilly Shire Council, is recruiting for 15 positions to be based at Council, with additional positions made possible thanks to funding from the Commonwealth and NSW Governments' Bushfire Local Economic Recovery Package.
The roles are for 12 month contracts for full time trainees, school based trainees and undergraduate students across a variety of Council departments including Finance, Employee Relations, Library Services, Infrastructure, Information Technology and more.
The positions available include six new trainees working full-time, four school-based trainees working one day a week and for the first time, five undergraduate students working around their university studies.
Undergraduates will be placed in Development Engineering, Recreational Planning, Environment Planning, Town Planning and Finance and work between 21 and 35 hours per week depending on their university study schedule.
Locals will attain nationally recognised qualifications and/or critical work experience towards their university degree.
CEO Ben Taylor said, "Wollondilly Council has a focus on creating local jobs for local residents, and this program opens the door for enthusiastic young job seekers and students to kick off their career where they can make a difference for their community." 
"We have had an extremely successful traineeship program through My Gateway for over a decade and I'm very pleased we've been able to expand the program this year with the support of the Commonwealth and NSW Governments."
"Many of our trainees go on to achieve great things, including work at other councils, government departments or in the private sector, and some stay on at Wollondilly long term, gaining permanent ongoing positions."
"The program offers a unique opportunity to study and learn new skills while gaining valuable work experience. Our trainees are an integral part of our organisation and I encourage local young people to apply to become part of our team."
Manager People & Change, Matthew Toro said, "I encourage all locals, young or old, to apply for this rare opportunity to come and work for Council to gain critical skills and work experience serving our great community."
"Wollondilly is a fantastic place to work with a highly engaged workforce. The opportunities ahead for Wollondilly are endless and what better way to kick start your new career."
For more information on these roles and how to apply, call My Gateway on 1800 993 200. Applicants must be from the Wollondilly LGA.