New facilities at Wilton Recreation Reserve now Open!
Posted on: 03.09.2020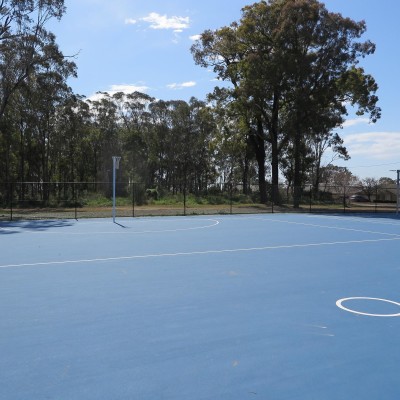 In great news for the Wilton community, the new multi-purpose facilities at the Wilton Recreation Reserve were officially opened today, Thursday 3 September.
The facilities include a new multi-purpose amenities building, four new multi-purpose courts, and upgrades to the AFL building including female change rooms and referee rooms. The new sports field was opened last year.
The new female facilities are part of Council's commitment to encouraging more young women to get involved in sport in the area.
Mayor Matthew Deeth said, "This is a fantastic development not only for the people of Wilton but for all of Wollondilly."
"This facility will allow a number of different sports to be enjoyed at the one location. It will also cater for future residents moving to the area".
"This is part of our massive capital works pipeline that will be supporting and providing jobs on the ground for our community."
"On behalf of Councillors, staff and the community I would like to thank Acting Minister for Sport, Geoff Lee and the Greater Sydney Sports Facility Fund program as well as the Crown Lands Improvement Fund for the opportunity to make this happen for our community," he said.
Acting Minister for Sport Geoff Lee said the Greater Sydney Sports Facility Fund provides many benefits to NSW.
"It is vital people have accessible, safe and inclusive sports infrastructure in their communities," Mr Lee said.
"The NSW Government three year program is investing $100 million towards new and upgraded sports facilities which will enable communities to participate in sport at all levels."
Member for Wollondilly Nathaniel Smith said upgrades provided a multi-sport facility that could be used by the community all year round.
"It's fantastic to see the completion of the upgrades which will ensure Wollondilly residents can enjoy the benefits of regular activity and exercise at a world-class sports facility."
In January 2019 it was announced that Wollondilly Council had been successful in its application for funding through the Greater Sydney Sports Facility Fund towards the implementation of the master plan for Wilton Recreation Reserve. The NSW Government awarded $2.2 million towards the project.
The Department of Planning, Industry and Environment also provided $100,000 towards the project through the Crown Reserves Improvement Fund.
Wollondilly Shire Council contributed $2.1m towards the overall project including construction of the new sportsfield. The total cost of the project including the field was $4.4 million.
The new facilities tick off a number of important objectives for the community, including to increase the number and type of sporting facilities, to improve the standard of the available sporting facilities to meet current and future needs, and to encourage increased female participation in sport.