NSW RFS urges The Southern Highlands to 'Get Ready' for bush fires
Posted on: 15.09.2022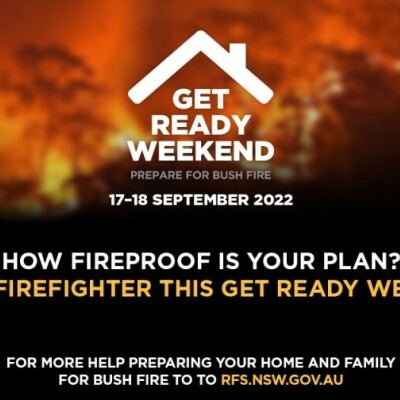 This media release below was issued by the NSW Rural Fire Service

The NSW Rural Fire Service (NSW RFS) is calling on all Wollondilly and Wingecarribee residents to join NSW RFS volunteer firefighters this Get Ready Weekend and prepare for the bush fire season.
NSW RFS Superintendent Martin Surrey said residents in the Wollondilly and Wingecarribee area are invited to meet their local brigade and to find out how they can prepare themselves and their
properties.
"While we've seen wet weather recently, it can take only a few days of hot, dry and windy weather for fire conditions to return, so it's important to get ready," Superintendent Surrey said.
"Get Ready Weekend is an ideal opportunity to find out more about making a plan, making your home bush fire ready, and understanding the new Fire Danger Rating System.
"The new Fire Danger Rating System is simpler, and provides clear actions to take. It's important to know the changes – they could save your life".
Superintendent Surrey said there are five simple steps you can take to reduce your bush fire risk, like clearing flammable items from around your home and mowing your lawns.
1. TRIM overhanging trees and shrubs.
2. MOW grass and remove the cuttings. Have a cleared area around your home.
3. REMOVE material that can burn around your home (e.g. Door mats, wood piles, mulch)
4. CLEAR and remove all the debris and leaves from the gutters surrounding your home.
5. PREPARE a sturdy hose or hoses that will reach all around your home.
"We've seen the devastating consequences that bush fires can have, so it's important that people right across the local area live bush fire ready – by knowing their risk, having a plan, and getting ready.
"Get Ready Weekend on 17 and 18 September is the ideal opportunity to meet your local Brigade and learn more about how easy it is to prepare."
If you can't make it to an event this Get Ready Weekend, you can always find out more about making a bush fire survival plan at www.myfireplan.com.au
For more information contact the State Duty Media Officer on 9898 1855
For current incidents or major fire updates visit www.rfs.nsw.gov.au
All of this year's Get Ready Weekend events can be found on the NSW RFS website All of this year's Get Ready Weekend events can be found on the NSW RFS website