Smart Telopea Park Buxton Trial
Posted on: 09.09.2020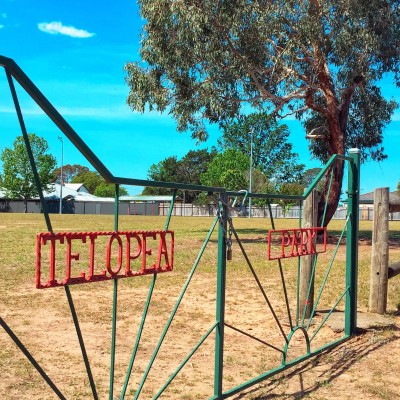 In exciting news for the Buxton community, Wollondilly Shire Council has partnered with OneWiFi & Infrastructure and the NSW Government to trial free public Wi-Fi at Telopea Park in Buxton.
The six month trial also provides a range of 'Smart City' features including the collection of data which will be available on Council's website. The sensors and gateways are powered by renewable energy (solar and wind power) generated onsite using Aura Renewable Energy assets.
The features will result in a better experience for users of the park, increased sanitation and more efficient operations for Council staff.
Mayor Matthew Deeth said, "We are very excited to be a part of this trial. This is a great initiative to increase connectivity and improve communication for our community through this innovative project."
"This project demonstrates how partnerships can deliver services to the community and how the Western Sydney City Deal fosters connections that are the foundation for partnerships."
Minister for Jobs, Investment, Tourism and Western Sydney Stuart Ayres said, "This kind of forward-thinking public infrastructure is exactly the innovation I'm proud to see being pioneered in Western Sydney."
"Smart City projects have boundless potential to develop skills and foster high tech jobs in Western Sydney."
Buxton Community Association is an enabling partner bringing internet connectivity to Telopea Park.  OneWiFi have installed an NBN connection at Buxton Community Association Hall, which is then transmitted to Telopea Park.
Brett Gumbley, President of Buxton Community Association said, "Buxton Community Association is really pleased to be part of the Smart Telopea Park trial. Not only is the project a great addition to the amenities of the park, but as a by-product we can now offer complementary Wi-Fi access at Buxton School of Art Hall. This Wi-Fi access will help support many community activities run out of the Hall."
Mevan Jayatilleke, Managing Director of OneWiFi also added, "Supporting initiatives that help the Council to provide improved service to their community has been a rewarding experience for our company".
The Western Sydney City Deal Digital Commitment's Steering Committee has engaged with industry to co-create the Digital Western Parkland City. 
A Pitchfest was held at Camden Council on 28 November 2019 with industry, researchers, innovators, startups, corporates and consortiums to share ideas and initiatives. Ten companies presented technology test and trial proposals, resulting in multiple innovative projects being implemented across the eight Western Sydney City Deal Local Government areas.
Through this Pitchfest an opportunity arose for Wollondilly Shire Council to partner with the NSW Department of Planning Industry and Environment for the Smart Park Test and Trial project.