Tahmoor Sporting Complex is one step closer to becoming a top tier sporting facility
Posted on: 07.12.2021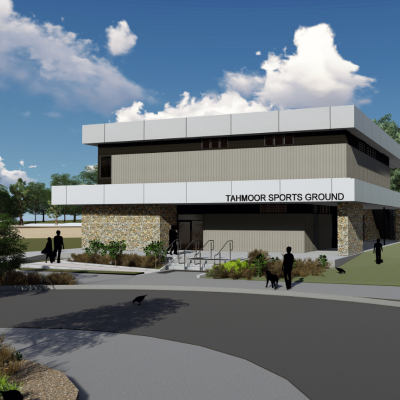 The construction of a new two storey multi-purpose amenities building at Tahmoor Sporting Complex is set to commence in December 2021.
The building is another step towards delivering more modern and user-friendly sporting facilities at Tahmoor to provide a top tier facility that will be utilised by the Wollondilly community.
Wollondilly Shire Council Chief Executive Officer, Ben Taylor said "We have worked with the community to come up with a sensational master plan for the Tahmoor Sporting Complex, in order to make it a district level facility that would be celebrated and welcomed by the entire community."
The project is made possible thanks to $5.6 million worth of funding through the NSW State Government Resources for Regions program, the Western Parkland City Liveability Program as part of the Western Sydney City Deal, Greater City Sport Facility Fund and Council. The combination of the grants will enable the design and construction of a fit for purpose building that will include meeting and function rooms, new amenities, utility works as well as the completion of external works such as a new entry road to the sporting ground, electrical, new sewer and landscaping.

Project Coordination have been awarded the tender for construction, with the works scheduled to take 9 months. The project is anticipated to be completed by October 2022.