About Worm Farming
What is Worm Farming?
Worm farming is a natural way to recycle fruit and vegetable waste.
Why Should you Worm Farm?
Over 50% of waste generated at home is organic matter which can be recycled.
Castings and liquid fertiliser from worm farms are high in nutrients and add much needed nourishment back into the soil creating healthier plants and gardens.
Worm farming produces 100% natural fertiliser so you don't have to buy expensive artificial fertilisers.
How do I get Started?
Download the Worm Farming Tutorial Guide.
Click on the image below to download the poster.
Worm Food
Do's & Don'ts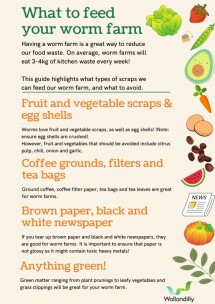 Learn More!
Check out Council's Sustainable Giving Guide to find out more tips on how to Recycle Organic Waste.