Dilly Wanderer is back on the road for 2022!
Check out the latest calendar for a location near you.
Look forward to seeing you all!
We'd Love Your Feedback!
We are looking for feedback on how to improve the way we communicate information about the Dilly Wanderer service. The feedback you provide will help us deliver that information. Complete the survey now!
Skip to:
About the Dilly Wanderer
The Dilly Wanderer brings child development activities and interactive learning & play to Children in the Wollondilly. The project is funded by the Department of Communities and Justice.
The Dilly Wanderer is a Free mobile community information service run throughout Wollondilly Shire and visits 12 out of the 17 villages. It's a great way to meet new people, participate in children's activities and find out more about local services with the children's activities and toys being the soft entry point. The Dilly Wanderer supports young families, single parents, Aboriginal families and local communities.
The Dilly Wanderer is part of the Targeted Early Intervention (TEI) Framework which has a primary focus working with children from 0-5yrs for early intervention and child development activities.
The Dilly Wanderer offers:
A safe and fun environment
Development activities, information, activities, craft and guest speakers
Local services to jump "On Board" to promote their service
Culturally appropriate services and works closely with Aboriginal families and communities
Story time from Library staff
Extra fun activities from Children's Services Staff
Referral pathways, information and resources for local services
Parents have the opportunity to chat with the program facilitator and connect with other families from their local community
Meet Candice (Candy)
Candy has operated The Dilly Wanderer since 2014. Candy has strong ties to Wollondilly having grown up in the region. Candy has a Working with Children Check and First Aid certificate.
"I love my job. It gets me out and about in the Community and I get to meet so many new people"
Candy.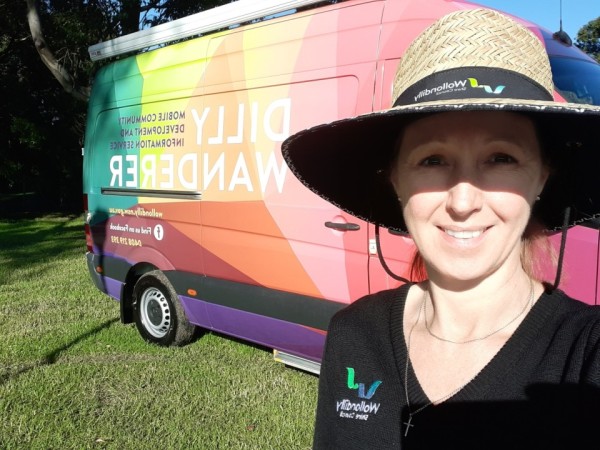 Dilly Wanderer Schedule
Download the 2022 Dilly Wanderer Schedule
Download the 2023 Dilly Wanderer Schedule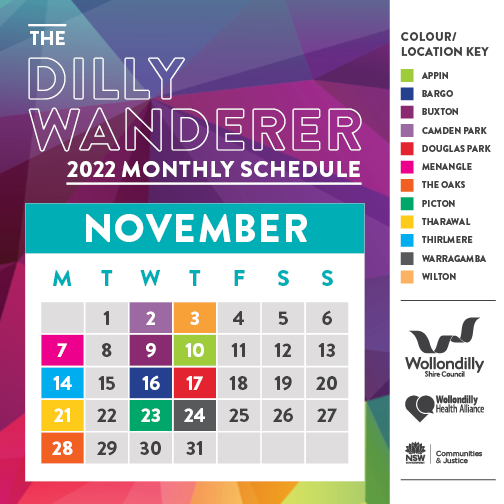 DILLY LOCATIONS
Dean McGrath Park 18 Station Street Menangle
Cubbitch Barta Reserve Park Way Camden park
Pembroke Pocket Park Bingara Gorge Wilton
Thirlmere Memorial park Oaks Road Thirlmere
Telopea Park East Parade Buxton
Buxton Hall 23 West parade Buxton
Appin Park Appin Road Appin
Tharawal Local Aboriginal Land Council West parade Couridjah
Bargo Sportsground park Radnor Rd Bargo
Douglas park Sportsground park Camden Road Douglas Park
The Oaks Park cnr John and Mary Street The Oaks
Picton RSL Park Argyle street Picton
Civic Park Warragamba
Wet weather venues
Wilton Hall, Broughton St - Wilton
Buxton Hall, West Parade - Buxton
Appin Hall, Sportsground Parade - Appin
Bargo Hall, Radnor Rd - Bargo
Douglas Park Hall, Camden Rd - Douglas Park
The Oaks Hall, Russell St - The Oaks
Picton Shire Hall, Menangle St - Picton
Warragamba Hall, Fourteenth St -Warragamba
Check Dilly Wanderer Facebook for last minute wet weather location changes
Free Child Development Information Sessions
About the Child Information Sessions
Would you like to enhance your parenting skills, have questions about your child's development or meet other parents from your area?
Join us along with guest speakers in Thirlmere for free information sessions on a range of topics.
Download the Child Development session 2022 flyer
Register Your Interest
To register your interest please call the Dilly Wanderer on 0408219393 or email dillywanderer@wollondilly.nsw.gov.au.
Pop-up Storytime
Download the October to December 2022 Pop Up Storytime flyer
About the Storytime Sessions
The pop up "story time" is a creative way for the Wollondilly Library to reach out to our wider community.
INCREASED SESSIONS during July to December 2022 due to @wollondilly library View room renovations
The Pop-up Storytime Session:
Promotes literacy, language and speech through engagement with appropriate based reading material and songs
Enhances fine motor and hand/eye coordination by implementing puppets and finger rhythms
Builds our community engagement and supports the future generation's literacy and language
Renee operates The Wollondilly Mobile Library and assists with The Dilly Wanderer. Renee has strong connection to the Wollondilly having grown up here. Renee has a Working with Children Check and First Aid certificate.
"I am extremely fortunate to have such an amazing job in my local Community, I love to promote books and the library while engaging with my Community"
Renee.
Follow Us
Looking for creative ideas during isolation, school holidays?
Follow us on Tik Tok & Facebook.
Contact
For any further details please contact Candice at dillywanderer@wollondilly.nsw.gov.au on 04 0821 9393 or email council@wollondilly.nsw.gov.au.
Colouring Page Downloads