Proposed Naming of Roads – 59 Abbotsford Road PICTON NSW
Closes: Oct 6, 2023, 5:00 PM
Roads Act, 1993 & Roads Regulation 2018, Part 2, Division 1
Notice is hereby given that Wollondilly Shire Council, in pursuance of Clause 7 of the above regulation proposes to name the following road/s:
Proposed Names:
Byrnes Dairy Lane
Exhibition Court
Sir Thomas Way
Description
3 New roads within 59 Abbotsford Road Picton NSW, Lot 102 DP 1271107, DA/2022/57/1 – 28 Lot Subdivision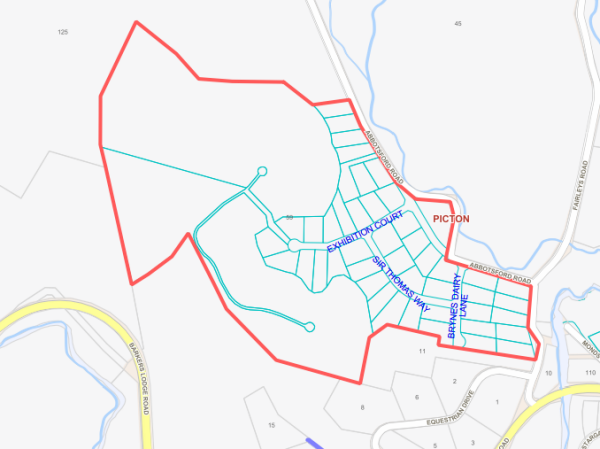 | | | |
| --- | --- | --- |
| Name | Road Type | Name Origin |
| Brynes Dairy | Lane | Byrnes Exhibition Dairy - name of the well known dairy "Byrnes Exhibition Dairy", Picton. It moved to Picton in 1938, after more than 60 years in Rosebery. H Byrne Pty Ltd, was Australia's largest dairy farm producer, moved their dairy business to Picton where they had been grazing and breeding cattle for some years. The business had been crowded out of the metropolitan area by surrounding development and advancing land values. A new company was formed, Byrnes Exhibition Dairy Pty Ltd, owned by Jim Byrnes (a division of NSW Fresh Food and Ice Ltd) establishing a 'Model Dairy', in its early years and at this location. |
| Exhibition | Court | Exhibition – derived from name of the dairy backdating to 1938 on Abbotsford Road, Byrnes Exhibition Dairy. |
| Sir Thomas | Way | Early Pioneer - Sir Thomas Picton, to which the town Picton NSW gained its name, he was also a friend and soldier of Governor Brisbane. The settlement that is now Picton was officially gazetted in 1841 and named Stonequarry - also the name of the creek. By 1845 it had been renamed Picton after Sir Thomas Picton, one of the Duke of Wellington's generals at the Battle of Waterloo. |
Enquiries
General enquiries can be directed to Council's Information Officer (Property Addressing) on (02) 4677 9736 or email streetaddressing@wollondilly.nsw.gov.au
Submissions
Submissions in respect to the proposed name must be in writing to, Wollondilly Shire Council at, PO Box 21, Picton NSW 2571 or email council@wollondilly.nsw.gov.au, clearly outlining reasons for such objection*. (quote reference CM1458-2)
Submissions for the proposal close 5:00pm, Friday 6 October 2023.
*All objections must identify where or how the proposal does not conform to the Principles NSW Address Policy and User Manual (APUM) Chapter 6, if they are to be considered and responded to by Local Government in the decision making. https://www.gnb.nsw.gov.au/