Council seeks feedback on the future of waste in Wollondilly
Posted on: 29.06.2021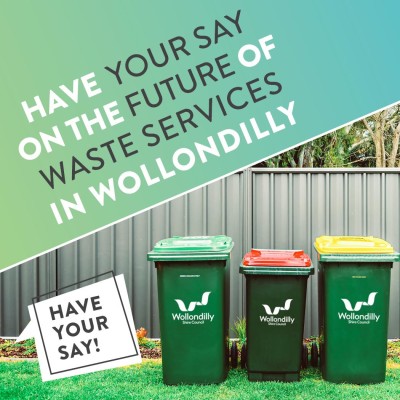 As Council prepares for the future of waste collection and disposal services in the Shire, residents are now invited to provide feedback through a waste survey to help guide this important planning.
Wollondilly is working with three neighbouring councils on a long-term regional waste management contract for processing and disposal, to ensure the best environmental outcomes and best value for ratepayers.
Results from the waste survey will help determine the way waste services are delivered in Wollondilly for the next 15-20 years, with the new regional contract expected to start in 2024.
Mayor Robert Khan said, "Globally and nationally there is increasing awareness around the management of waste, with moves towards reusing, recycling, and composting."
"Councils are embracing emerging and existing global technologies to help reduce landfill and maximise the value of resources."
"We are inviting all residents to complete a 10 minute survey to tell us their thoughts on waste collection in our area," he said.
The survey questions are about:
The way Council provides the household clean-up service
Exploring new technologies and systems for managing our waste e.g. FOGO (Food Organics Garden Organics)
The economic and environmental cost of managing waste
Staff will be available to chat at an online session, which will be held on Wednesday 14 July.
Head to www.yoursay.wollondilly.nsw.gov.au to find out more and complete the survey. Alternatively, hard copy surveys are available from Council services or can be mailed directly by calling 4677 1100.