Funds poured into road repairs as extreme wet weather wreaks havoc with Wollondilly's roads
Posted on: 30.05.2022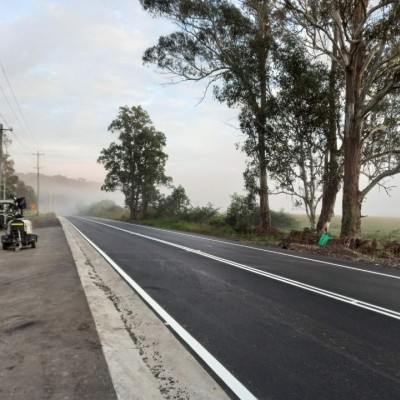 An unprecedented six months of extreme wet weather in 2022, on top of major storm events in 2020 and 2021, have significantly impacted Wollondilly's 870km road network. Day after day Council crews and contractors continue to work tirelessly to repair the damage, only for the waterlogged soil and ongoing rain to undo their efforts.
The ongoing damage caused to the roads and the fact that the organisation has been in emergency road repair mode since the beginning of 2022 was highlighted at Tuesday night's Council meeting, as Council considered the Quarterly Budget Review.
Mayor Matt Gould said, "There is no denying our roads have been absolutely hammered, despite our best efforts. Whilst we certainly have pre-existing road issues across the Shire, the incessant rain and flooding has made it exponentially worse, with a 400% increase in reported potholes since the rain started."
"Council needs to be agile and in response we have re-allocated significant funds to urgent road maintenance and repair works such as small-scale pavement repair/patching to get us out of this vicious cycle of re-filling potholes."
"The reality is what we need is prolonged sun and for the rain to stop, but we believe this approach will make a meaningful difference."
"If we're really going to get on top of the road issue we also need the NSW government to step up by taking over management of our major roads like Remembrance Driveway and Silverdale Road, as they do for all our surrounding councils."
"We also need both the State and Federal Government to provide significant additional financial support to allow us to quickly repair the tens of millions of dollars of damage to our roads."
"Councils only collect 3.4% of annual taxation revenue in Australia, with the rest collected by the State and Federal governments, and it's time they put their funds where the community wants it – our roads!"
Significant additional operational and maintenance costs have been incurred that are not fully covered by Natural Disaster Recovery Arrangements, resulting in unavoidable delays and challenges to the delivery of the Capital Program for both road and building projects.
Council is currently adjusting the road renewal and maintenance plan for 2022/23 to address the extraordinary damage inflicted on the roads since the start of the year.
Mayor Gould has thanked Council staff for the huge efforts they have put into road repair and recovery in very challenging circumstances.
"Staff have been working non-stop for months to try and repair the roads, with no end in sight."
"The rain just keeps coming, and the impacts on our existing capital construction programs are continuing. Some of the road works that have been scheduled are at risk of not being finished before the end of June and will need to be completed in the new financial year."
"This is being further exacerbated by the fact it's almost impossible to secure contractors to come and fix our roads at the moment because of the massive demand across Sydney and NSW, because most councils on the eastern seaboard are facing similar challenges."
"We are also currently adjusting the road renewal and maintenance plan for 2022/23 to address the extraordinary damage inflicted on our roads in recent months."
"We will continue to advocate for government funding to help us address this frustrating issue," he said.
The elected Council has instructed the CEO to direct any unexpended funds from the Capital Roads Program to the road maintenance and road recovery program as specialist contractors become available, for additional repair works for roadside drainage, pavement overlays for sections of damaged pavements and additional pavement replacement works.