Wollondilly welcomes its first popularly elected Mayor
Posted on: 21.12.2021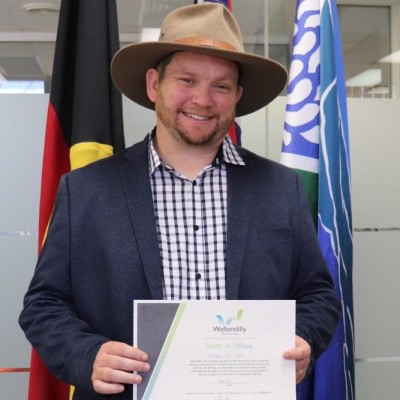 After a hotly contested race in the recent Local Government Elections, the NSW Electoral Commission has today announced the highly anticipated outcome of Wollondilly's Mayoral vote; naming former Councillor Matt Gould as the Shire's first ever popularly elected Mayor.
Mr Gould is a father of three and proud lifelong resident of Warragamba/Silverdale who has been a Wollondilly Councillor since 2016 and served as Deputy Mayor from December 2018 –September 2020.
The 36 year old unmanned aerial vehicle pilot is a dedicated member of the Silverdale Rural Fire Brigade and has been involved in many local committees, groups and initiatives.
Mr Gould thanked the community for their generous support during what he has called a 'grass roots' election campaign, which saw him overwhelmingly backed by residents in his north ward.
"I am humbled by the level of support I have received from the community and don't take it lightly. I am excited to be taking on the role of Mayor for the next term of Council and I am really looking forward to getting to work as soon as possible and being a Mayor for the entire Shire."
"It has been an honour to serve my community as Councillor and Deputy Mayor during the past term, which was significantly impacted by bushfires, floods and Covid-19 lockdowns and ultimately delayed the election by about 15 months. I am very proud of what we achieved during such a challenging time for Wollondilly."
"I am looking forward to working with the newly formed Council, including some new faces who I'm sure will bring some fresh ideas to the table and some returning Councillors who I know are strongly committed to the wellbeing of this community."
"I will be working hand in hand with Councillors and Council staff to make sure Wollondilly gets the infrastructure it needs as we manage the growth challenges ahead, whilst protecting the unique village character and semi-rural lifestyle that we all love about the Shire."
CEO Ben Taylor has welcomed the newly elected Mayor as he awaits confirmation from the Electoral Office of who will make up the rest of the Council.
"I look forward to working together with the Mayor and Councillors to build on our great foundations to create a high performing organisation for our rapidly growing Shire, delivering even more positive outcomes for the community," he said.
The eight successful Council candidates are expected to be announced later this week, with the distribution of preferences scheduled for Wednesday 22 December.
The new Mayor and Councillors will go through an induction process and will be publicly sworn in at a live-streamed meeting on the 18th January, with the first Ordinary meeting of Council scheduled for 22 February 2022.