Designs released for upgrading Hume Highway/Picton Road interchange – have your say
Posted on: 01.11.2022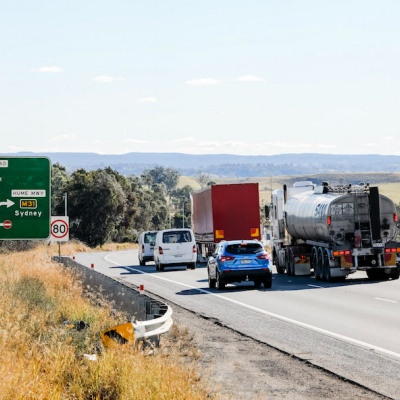 Wollondilly Shire Council has welcomed progress on the planned interchange at Picton Road and the Hume Motorway, following the release of the preferred design option by the NSW Government last week.
A Diverging Diamond Interchange has been proposed for the location and the Transport for NSW is now seeking feedback on the design.
Mayor Matt Gould said, "This planned upgrade to the Picton Road and Hume Motorway interchange is an urgent priority, heavily gridlocked in the peak and the site of frequent accidents."
"Our region is one of the fastest growing in the state, with new residents moving in every week, so it's imperative the government commits funding for construction and gets the project underway urgently."
"Council looks forward to a solution that is safe, efficient and can be delivered in a timely manner and that coherently integrates with development that is happening at Wilton, particularly the current works at Pembroke Parade."
"We're pleased to see a design has been released however are keen to understand more from Transport for NSW on how it will deliver safe and efficient travel for the community. We have invited them to brief us on the plans."
"It's critical the design solves the current traffic problems and also provides the best possible solution as our community grows over the next 20-50 years."
"Commuters are understandably frustrated with the delays at the current intersection, particularly at peak times of the day. It is important for Wollondilly that we see some action on this project as soon as possible."
This is the second diverging diamond interchange proposed in NSW, with the first one proposed for the Australia Avenue and Homebush Bay Drive interchange in Homebush.
Transport for NSW believes the design will allow free flowing turns, with fewer traffic light phases and more than half the number of conflict points, as well as uninterrupted 'turn right' movements.
Picton Road is an important transport corridor linking the Greater Macarthur Growth area with the Illawarra Region and Sydney and is one of two major east-west links between the M1 Princes Motorway and M31 Hume Motorway.