Construction begins on new Wollondilly children's services building
Posted on: 05.11.2021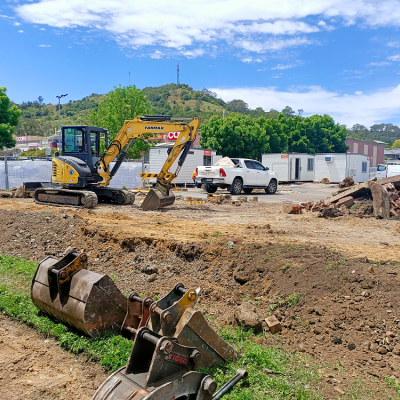 Construction is officially underway on a new children's services building, in a major milestone for the highly anticipated Wollondilly Cultural Precinct.
The Morrison Government and Perrottet Government have each committed $814,784 to the new fit-for-purpose children's services building, with Wollondilly Shire Council contributing a further $1,268,470.
The project is funded under the Western Parkland City Liveability Program as part of the Western Sydney City Deal.
The Western Sydney City Deal is a partnership between the three levels of government overseen by Minister Fletcher, Minister Ayres and the eight mayors of the Western Parkland City.
Federal Minister for Communications, Urban Infrastructure, Cities and the Arts, the Hon Paul Fletcher MP, said the new children's services building would play a role in the broader Picton town centre revitalisation.
 "This new children's services facility will provide high quality childcare services and is being delivered as part of the Wollondilly Cultural Precinct development, which includes the refurbishment of the Shire Hall, a performing arts centre, government services building, village green and new library," Minister Fletcher said.
 "This important project is one of many being funded under the $11 billion Western Sydney City Deal, which is helping to increase liveability and transform the region through the delivery of important community infrastructure."
New South Wales Minister for Jobs, Investment, Tourism and Western Sydney and Minister for Trade and Industry the Hon Stuart Ayres MP, said the children's services building is a significant step in the overall delivery plan.
 "This building will see the relocation of Council's existing 30-place before- and after-school care and vacation care services," Minister Ayres said.
 "The building also has capacity to accommodate a future 30-place preschool in a contemporary and functional facility."
 Wollondilly Shire Council CEO, Ben Taylor, said the beginning of construction signifies that the Wollondilly Cultural Precinct is becoming a reality, which will be welcomed by the community.
 "Congratulations to the Mayor and councillors, who I'm sure are delighted to see construction begin on the children's services building, and are looking forward to seeing the project take shape over the next 12 months," Mr Taylor said.
 "This is a great investment for our community, with the delivery of a practical space for families who live or work in the Shire."
 The children's services building project is being completed by Patterson Building Group and is expected to be finished in mid-2022.