Council rejects proposed Mt Taurus development at Menangle
Posted on: 28.07.2022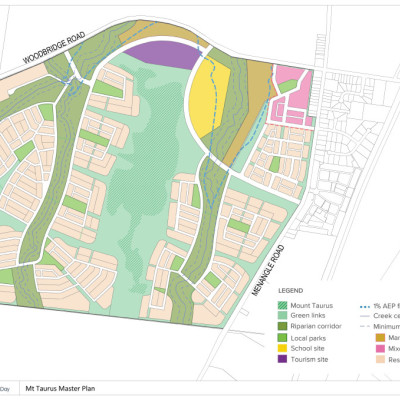 Wollondilly Council has voted not to support a draft planning proposal at Woodbridge Road Menangle, which would see rezoning of land to allow for significant expansion of the Menangle village.
The draft planning proposal was submitted to Council in April, requesting amendments to the Wollondilly Local Environmental Plan 2011 to enable the development of No. 65 Woodbridge Road, Menangle, known as Mount Taurus.
Before considering its position, Council held a preliminary round of consultation during May to gain feedback from the community and stakeholders on the proposal. During this period 84 submissions were received, with 74 not supportive, six supportive and four mixed.
Deputy Mayor Matthew Deeth said, "We have heard from the community who have many concerns about this proposal, and it is clear that there are too many risks for it to go ahead. I'd like to thank all community members who provided feedback."
"In addition, the draft planning proposal is not in line with the land use vision and priorities for the Shire set out in Wollondilly 2040, Council's local strategic planning statement, and conflicts with a number of adopted strategies."
"It is also inconsistent with the State Government's strategic planning framework. The site is located within the Metropolitan Rural Area, and is not part of the Greater Macarthur Growth Area nor the Wilton Growth Area."
"The proposal for a large urban development on currently un-serviced and isolated rural area would require a significant infrastructure investment, with uncertainties particularly around the delivery of water and sewer, roads and public transport."
"This proposed development would divert resources away from the necessary critical infrastructure, funding, and delivery for the identified and prioritised Wilton Growth Area."
"Of great concern to Council and the community is that the site will substantially change the rural character and impact Menangle village and the surrounding landscape conservation area. This plan is definitely not in the public interest," he said.
"Council calls on the Minister for Planning and Homes and Greater Cities Commission to uphold the strategic planning framework including Wollondilly 2040, for the early delivery critical infrastructure to support our existing zoned priority growth area at Wilton; and to ensure that speculative and any inappropriate and out of sequence development is not supported."
Significant concerns have been raised by two government agencies about the impact on the Elizabeth Macarthur Agriculture Institute, as the development will cause land-use conflict which would adversely impact the agricultural and biosecurity research operations, which are of National significance.
Council believes the development will have an adverse effect on the biodiversity and conservation of threatened species, ecological communities and their habitats.
The proposal is premature as the Wollondilly Hazards Analysis and Emergency Management Study has not been completed.
The Local Planning Panel has considered Council's report on the proposal and agreed that it should not proceed, also citing the significant lack of support from Government agencies as well as the neighbouring research facility.