Entries open for the 2022 Wollondilly Christmas Lights Competition
Posted on: 03.11.2022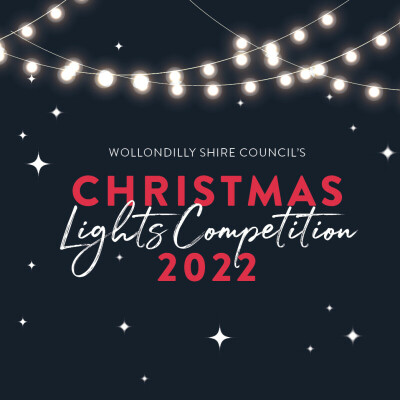 It's time to light up the neighbourhood and get ready for the holiday season, with entries now open for Wollondilly Council's 2022 Christmas Lights Competition.
Established in 1998, the Christmas Lights Competition has been embraced by residents and businesses from right across the Shire each year and is now a well-loved Wollondilly tradition.
2022 has been another challenging year for the community, so this is the perfect opportunity to take some time out to decorate and prepare for the holiday season.
Wollondilly residents can enter the Christmas Lights Competition by completing the entry form on Council's website by 27 November.
Judging will take place from 7-13 December and the winners will be notified initially and then announced on Council's website and social media platforms on 15 December.
Mayor Matt Gould will visit the Grand Champion to present the prize and see the light display in person.
This year the categories include:
Best Lit Small House and Garden
Best Lit Large House and Garden
Best Lit Senior Citizen House
Best Lit Commercial / Retail Premises
Best Lit Street
People's Choice Award
For more information, contact the Community Projects & Events team on 4677 1100, or visit Council's website