Join Book Lovers Across the State in NSW Reads
Posted on: 07.01.2021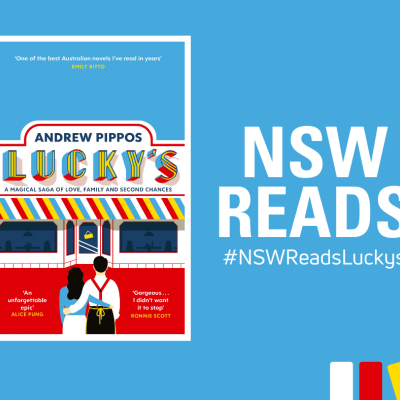 Wollondilly Library invites book lovers in Wollondilly Shire and beyond to join NSW Reads – a statewide online book club and one of New South Wales' largest reading programs.
Coordinated by the New South Wales Public Library Association, NSW Reads will see book lovers across the state reading Andrew Pippos' debut novel, Lucky's.
Central to the theme of Lucky's is the iconic Greek milk bar/café businesses, found in many Australian towns and suburbs.
In the current climate of uncertainty around live events, Wollondilly Library is committed to offering and promoting online events, giving local residents the opportunity to attend and participate in a diverse range of programs.  
Join the Instagram read-along @nswlibraryevents, take part in an online panel discussion on Greek-Australian cafés past and present, and meet the author, Andrew Pippos, online. 
Each Monday from 11 January 2021, a weekly reading schedule (along with a daily reading schedule) will be posted. At the end of the week, on Sunday, discussion points covering the chapters read will be posted - you can join in the discussion by adding your comments in the chat.
On Tuesday 9 February 2021 from 12:30pm, join an online panel discussion on Greek-Australian milk bars past and present.
On Wednesday 17 February 2021 from 6:30pm, attend a virtual author talk to hear Andrew Pippos tell the story behind the story.
You can borrow a copy of Lucky's from the Wollondilly Library or you can download an eBook or eAudio from the Library's Borrowbox app.
Visit Wollondilly Library's website for the full program details. 
Presented in collaboration with NSW Public Libraries.