Mayor's Charity Night supports Men's Mental Health in Wollondilly
Posted on: 28.06.2021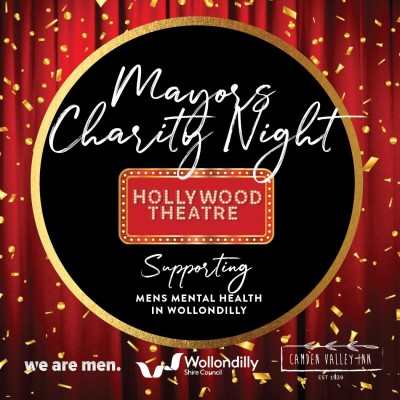 Wollondilly Mayor Robert Khan will be hosting a Hollywood themed Dinner Theatre Show on Saturday 31 July at Camden Valley Inn* to raise money for the expansion of the We Are Men campaign, supporting men's mental health in Wollondilly.
Following a challenging 18 months which included bushfires, floods and Covid-19, mental health has become an even more vital issue in the Wollondilly Shire.
While mental health impacts everyone, men are a lot less likely to talk about the way they are feeling and 72% of males don't seek help. Men are three times more likely to die from suicide.
We Are Men is a community of real men from the South Western Sydney region talking about their real struggles in a bid to tackle the stigma surrounding men's mental health.
As part of the campaign, men are opening up and discussing their mental health through video stories, podcasts, an app and highlighting of local services.
Mayor Khan said, "I will be hosting a Dinner Theatre Show on Saturday 31 July at Camden Valley Inn to raise money to expand the We Are Men initiative further into Wollondilly."
"My target is to raise $10,000 and I would appreciate your support to raise the funds to go towards this extremely valuable cause."
Tickets are $120 per person or tables of 10 for $1100. The ticket price includes a dinner and drinks package and a show.
There will be raffles, auctions and prizes on the night as well as speakers from the We are Men Campaign.
Tickets are available at trybooking and more information is available on Council's website

*This event will be dependent on current Covid-19 restrictions. Tickets will be fully refundable (less handling fee) if the event is impacted.