NSW Dine & Discover program to inject funds into the Dilly economy
Posted on: 15.03.2021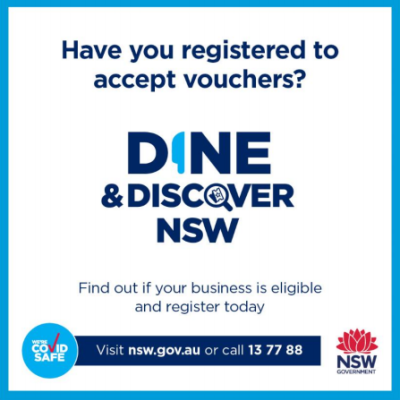 Wollondilly business owners can now register to participate in the NSW Government's Dine & Discover program, being rolled out across the State to help communities recover from the economic impacts of Covid-19.
The scheme aims to encourage people to get out and about to support dining, arts and tourism businesses and inject some much needed cash into the regions that need it most.
Residents over 18 years of age can now access vouchers to the value of $100 by visiting the Service NSW app and collecting a QR code, which can be redeemed at a participating business.
The four $25 vouchers can only be used within businesses that have registered with the program and implemented a Covid Safety Plan.
Mayor Robert Khan said, "I am pleased to see the Dine & Discover program being launched in the Wollondilly Shire. Our local businesses have been hit hard over the past year with bushfires, flooding and the impacts of Covid-19."
"This program will encourage both locals and visitors to get out there and 'Love the Dilly,' to enjoy a bite to eat or visit one of our amazing attractions."
Dine & Discover NSW vouchers will be divided into two categories:
Two $25 Dine NSW Vouchers for dining in at restaurants, cafes, bars, wineries, pubs and clubs (from Monday to Thursday)
Two $25 Discover NSW Vouchers to be used for entertainment and recreation, including cultural institutions, live music, and arts venues, to use 7 days a week apart from public holidays
To be eligible for the Dine & Discover scheme, business owners need to:
Have an active ABN and be registered for GST.
Operate in NSW in one of the eligible industries listed on the registration webpage 
Have a Covid Safety Plan in place and be registered as Covid Safe
Once businesses have registered online, they will receive an email with instructions on how to set up the Service NSW Business app to scan and track the vouchers.
To register your business, head to the Dine and Discover page.