Wollondilly Mayor condemns State Government's latest announcement on Dam Wall raising
Posted on: 06.10.2022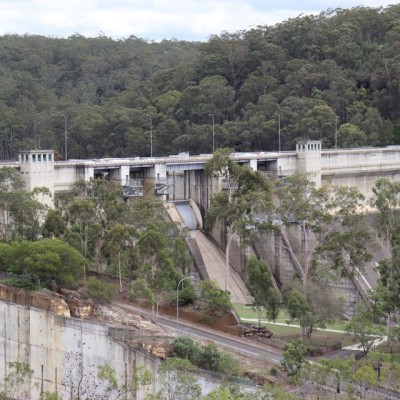 Wollondilly Mayor Matt Gould has once again spoken out against the NSW State Government's plans to raise the Warragamba Dam wall following yesterday's announcement by Premier Dominic Perrottet declaring it a critical state significant infrastructure project.
Mayor Gould said that the announcement by the Premier, which gives final approval to raise the dam wall to the NSW Planning Minister, removed the ability for the project's planning approval decisions to be scrutinised by the community in court under NSW Planning and Environmental law.
"Rather conveniently, this announcement comes two weeks after findings by the NSW Government's legal auditors were publicly released, finding the dam project's Environmental Impact Statement (EIS) had been improperly prepared by Water NSW and SMEC Engineering, with serious claims regarding conflicts of interests identified by the auditors."
"Everyone who has objectively looked at the issue can see how highly flawed the EIS process for the dam wall raising has been. There has been criticism from groups as diverse as the Upper House Committee on the Dam Raising, environmental, indigenous and flooding experts, and even a former Deputy Commissioner of the SES."
"Instead of worrying about how to best shield itself from valid scrutiny of its flawed EIS process, the state government should focus on more immediate ways to manage the flood risk on the Hawkesbury-Nepean and drop the water level in Warragamba Dam before any predicted heavy rainfall events."
"Dropping the water level and offsetting it with greater use of the desalination plant is an option that has not been properly considered and has been advocated for by a variety of experts," he said.
"This would allow the government to redirect the billions of dollars that would be spent on raising the dam wall into flood evacuation routes and road infrastructure which is desperately needed for at-risk communities across Greater Western Sydney, and which would also improve transport links on a day to day basis."
"The government's own modelling shows that raising Warragamba Dam cannot, and will not, remove the risk of catastrophic flooding of the Hawkesbury-Nepean, with over 50% of flood waters coming from the Upper Nepean and sources other than Warragamba Dam."
"This is one of the wettest years ever recorded, and I'm disappointed that the Premier is politicising the threat of flooding as a tool to push for an outcome that will enable further development on the flood plains of Western Sydney."
The area that would be inundated as a consequence of the proposed raising of the existing Warragamba Dam wall is almost entirely located within the Wollondilly Local Government Area.
It would cause irreparable damage to the area's unique indigenous heritage and native species, as well as threaten the Blue Mountains World Heritage Status.