Wollondilly's Australia Day Winners Announced
Posted on: 27.01.2021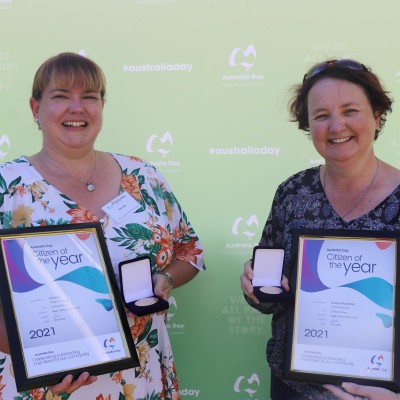 Wollondilly's Australia Day Awards winners for 2020 were announced at a ceremony in the Picton Botanical Gardens this morning which was live streamed to the whole community.
This year, two people were named Wollondilly Citizen of the Year. They are Kim Hill and Sharon Robertson, in recognition of their service to the community throughout the challenges of 2020.
Mayor Robert Khan said, "I would like to congratulate Kim Hill and Sharon Robertson for their fantastic achievements and commitment to the people of Wollondilly."
"Their great sense of community spirit and dedication and the many important projects they have worked on will leave a lasting benefit."
Kim Hill has been a volunteer member of the Rural Fire Service (RFS) for 6 years with the Buxton RFS, and can often be on call 24 hours a day, 7 days a week. Kim has provided educational and training opportunities for her community and has assisted with hazard reduction processes. 
Kim was the driving force behind the Buxton Rural bushfire brigade project. She rallied the community to raise $200,000 towards the construction of a memorial Fire Truck Playground at Telopea Park to honour fallen RFS Members Andrew O'Dwyer and Geoffrey Keaton of Horsley Park RFS.
In partnership with Kerry O'Grady from the Picton CWA, Kim established and managed a Community Recovery Hub at Balmoral Village Hall in response to the Green Wattle Creek Fire event.
Through her strength, teamwork, positive and compassionate approach Kim has been a driving force to provide access to vital services locally, linking fire impacted people to practical services and support.
Sharon Robertson is a Helping Shining Starts Foundation volunteer and has been involved in setting up food outreaches in Warragamba, Picton and Bargo as well as a community BBQ outreach in Balmoral to help feed people in need.
Sharon was the Dilly Drought Drive organiser since it started in 2018, raising over $1 million in money and products for local farmers.
She started Macarthur Storm Chasers to inform locals about storms and other local weather information and has been involved in The Right Start Foundation for children with Down Syndrome for 10 years.
Sharon is a volunteer for Society 389 Children's Charity Club and has also helped get supplies to the elderly in her area with the Lomandra Food project.
She has set up community libraries at The Oaks, Warragamba, Tahmoor, Wilton, Buxton and Balmoral and supported the Riding for the Disabled to gain sponsorship to fund ongoing operations.
Sharon is also a member of the Wollondilly Council Recovery Committee for Fires & Flood 2019-2020.
Other category winners for 2021 are:
Young Citizen of the Year – Summer Hogan
Achiever of the Year – Dr Stuart Quarmby
Sportsperson of the Year – Clint Harding
Local Community Group of the Year – The Oaks Historical Society School Education Program
Environmental Citizen of the Year – Kate Banister
Disability Inclusion Award - Mary Martin