Wollondilly's Australia Day Winners Announced at scaled down ceremony
Posted on: 27.01.2022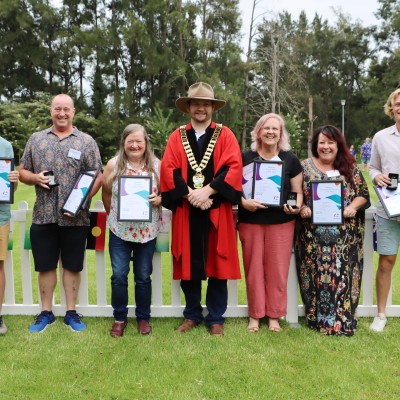 Wollondilly's Australia Day Award winners were announced at a Covid-safe ceremony in the Picton Botanical Gardens yesterday, live streamed to the whole community.
This year's Wollondilly Citizen of the Year is Marjo Hallowell, who was recognised for her valuable service to the community during 2021.
Mayor Matt Gould said, "I would like to congratulate Marjo for all the work she has done in the community and her ongoing commitment to the people and environment of Wollondilly."
"Her great sense of community spirit and dedication and the many important projects she has worked on will leave a lasting legacy, particularly for local women in business."
Marjo has been a stalwart of the local community for over 40 years and is currently the secretary of One Stop Community Assistance (OSCA) and treasurer of Wollondilly Women in Business.
In 2021 she rode 850kms in the Great Cycle Challenge for the CMRI with her team raising $9,229. She is a member of The National Trust and a friend of Picton Rotary Club.
In 2020 Marjo became the inaugural Wollondilly Women in Excellence Awards Patron and Woman of the Year. She volunteers at Taara Gardens where OSCA is creating a vegetable and sensory garden, and she has created a Facebook page encouraging people throughout Australia to donate to their local Bush Fire Brigades.
Marjo has planted hundreds of trees and natives in Bargo and she has taken part in the Clean Up Australia Day Campaign and the Backyard Bird Count for a number of years. Marjo is a Friend of Picton Rotary and has previously been a member of the Picton CWA.
Other category winners for 2022 are:
Young Citizen of the Year – Dane Clark
Environmental Citizen of the Year – Reginald Collins
Local Hero of the Year - Tia Veech
Community Group of the Year - Wollondilly Women in Business
Sportsperson of the Year - Thomas Noakes
Achiever of the Year - Mark Davies
Disability Inclusion Award - Wendy Evans